SUPERINTENDENT'S UPDATES
Dear FCCPS Families,
As promised earlier this week I am reaching out to share where we are in the review and implementation of the new CDC Guidance.
Thank you to many members of the Professional Employee Association Committee, Support Employee Association Committee, School Affiliated Organizations, Principals, and other selected staff for your input into this work.

---
---
Two years ago, on March 12, 2020, FCCPS closed its doors for an extended period of time due to a once-in-a-century pandemic. Since then we have been through what can only be described as some of the worst years of our professional and personal lives. This week marks a significant turning point in our traumatic experiences as we slowly return to normal.
I see this moment as a bright light at the end of a long dark tunnel. And, it is spring time which to me signifies renewal…we will rebloom along with the crocus and the daffodils! This is the lift we have been needing.
Today at 8 AM the School Board met to modify their policy JA which is the masking policy. Their action clears the way for me to implement the full guidance of the CDC in FCCPS.
The new guidance will take effect tomorrow (March, 4th) morning at the start of the school day.
When you review the document below please note that we are currently in "Medium" as designated by the CDC. This planning outline allows us to "dial-up" or "dial-down" mitigation dependent on the community circumstance as defined by the CDC. Further, please be sure to look at the link at the bottom of the section called "Other Mitigation" as it outlines all of the steps FCCPS will continue to take depending on the CDC level.
Throughout this pandemic, FCCPS has recognized and appreciated all you have done on behalf of your children. It has been a strong partnership. As we emerge from the fog of this international disaster, take time to breathe the spring air, see the beauty in the budding trees and flowers, be kind to yourself and each other, and remember through all of this LOVE has been our waypoint. Every decision we made as a division was made in the spirit of loving one another, our students, our school system, and our community. I hope as we come to the close of this pandemic, you will all recognize that we led with our heart, integrity, and care for our kids and each other.
Here's to a new day in FCCPS!
Peter
#BetterTogether
CDC's New Definitions of "Low, Medium, High"
Link to complete CDC guidance: https://www.cdc.gov/coronavirus/2019-ncov/science/community-levels.html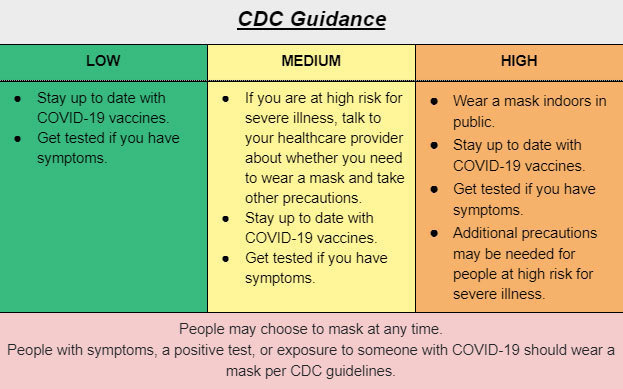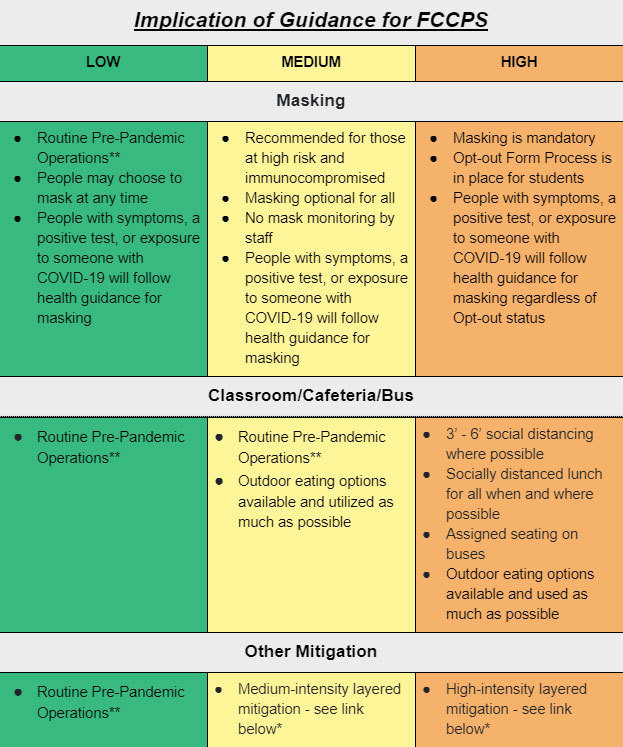 * FCCPS Pandemic/Communicable Disease Response Matrix
** Routine Pre-Pandemic Operations - Operations resume in ways consistent with little to no threat of any infectious disease. FCCPS supports handwashing, good germ hygiene, and will remain vigilant in our practices supporting our schools' overall health and wellness. This includes support for health compromised students and staff. * FCCPS Pandemic/Communicable Disease Response Matrix
Additional Information
Symptomatic Students/Staff
Any student/staff member who is displaying COVID-like symptoms will not be able to attend school/work until their symptoms are resolving (including being fever free for 24-hours without the use of fever-reducing medication) AND they provide a negative COVID test (must be lab-verified/proctored) or an alternate diagnosis or clearance from a medical professional. Adjustments will be made for students with known health conditions based on the guidance of our nursing staff. Coronavirus Self-Checker | CDC
Rapid Testing
Our FCCPS rapid testing program will continue for any symptomatic student or staff member who needs immediate support. Please contact the School Health Aide for your school or go to the health clinic to get a rapid test. Anyone who needs support administering the test can get access to a device in the health clinic. Parents are required to administer the test for their student, as school staff are not permitted to administer tests. FCCPS BinaxNow Tip Sheet.pdf
Contact Tracing/Multiple Cases
While there is no longer contact tracing of isolated/sporadic cases, the division does monitor and provide health guidance to all positive cases. Letters are sent to classrooms/groups/activities impacted when a single positive case is determined. Parents should follow the 2/3/22 VDH Flowchart for K-12 and Child Care Parents: What to do if my child is ill or exposed to COVID-19? Guide from the Virginia Department of Health.
When there are multiple (3 or more) cases found in the same classroom/group/activity a contact tracing investigation is initiated by FCCPS with the Fairfax County Health Department. If there is no epidemiological link between the cases, then the situation is determined not to be an outbreak. However, if a link is found between the cases the FCHD will identify the situation as an outbreak and guidance will be provided to the school regarding next steps.
Isolation/Quarantine and Masking
FCCPS will continue to follow CDC and FCHD guidance when a student/staff member tests positive for COVID. An isolation period of 5 days from symptom onset or date of test result is required for anyone who tests positive for COVID. The student/staff member will be required to isolate for 5 days and, if they are symptom and fever-free, may return to school on day 6. Days 6-10, the returning student/staff member is required to wear a mask regardless of vaccine or opt-out status.
Quarantines are required for anyone who is exposed or considered a close contact based on symptoms and/or vaccination status. Anyone who is vaccinated and exposed/close contact to COVID can continue attending school/work provided they do not have any symptoms. Anyone who is unvaccinated and exposed/close contact must quarantine for 5 days after exposure or participate in a "test to stay" program. Any student or staff member who wishes to participate in FCCPS' Test to Stay Program can contact Jenn Beck (beckj@fccps.org). Masking is required during the 10-days following exposure period regardless of vaccine or opt-out status.
Quarantine and Isolation Guidance from the CDC
https://www.cdc.gov/coronavirus/2019-ncov/your-health/quarantine-isolation.html
PCR Testing
We will continue to offer free, weekly PCR testing to students and staff every Tuesday and Thursday to determine the level of virus in our school community. If you have been part of the testing program, just a reminder that you need to re-enroll with the state's new vendor, Aegis, to continue with testing. If you would like to join, register here! It only takes a minute and continues to be an essential part of our infectious disease strategy.
FCCPS COVID By The Numbers
Weekly updates to the data below ensure that all community members are informed about positive cases, testing, and masking.
Data:

Number Positive of Cases for Week 27

Cumulative Since August 1

# of Student Cases:

2

391

# of Staff Cases

0

83

# of Students in Quarantine Due to Being a Close Contact

0

203

FCCPS Rate of Transmission

Medium for Falls Church City

Medium for Fairfax Health District
Please note that this data is just a snapshot of FCCPS in total and is adjusted based on the outcomes of each contact tracing investigation.
All FCCPS positive cases are included regardless of source. These data include parent/staff reports, ViSSTA results, HD notifications, and healthcare providers.
ViSSTA Testing Data Week of:

Number Tested

# Positive

February 21-25, 2022

Tuesday

Thursday

314

332

0

0

February 28-March 4, 2022

No Testing

No Testing
Important COVID Links for Parents:
Important Mental Health Resources for Families:
Call 911 should you need immediate support in a life-threatening situation.

CrisisLink Regional Hotline: 703-527-4077 CrisisText: Text HOME to 741741

Mobile Crisis Unit: 703-573-5679

Merrifield Center Emergency Services: 703-573-5679

National Hope Line: 1-800-SUICIDE (1-800-784-2433)

LGBTQ Lifeline: 1-866-488-7386

National Suicide Prevention Lifeline: 1-800-273-TALK (1-800-273-8255)

SAMHSA National Helpline: 1-800-662-HELP (1-800-662-4357)