Summer Academy Staff
ADMINISTRATORS:
TEACHERS:
Mrs. Thrush - English & Personal Finance
Mr. Thomas - Math (through June 30)
Mr. Duchaj - Social Studies, PE & Health
Mr. Pepper - Science & Economics
Mrs. Barbagallo - Math
Orientation Recording and Slideshow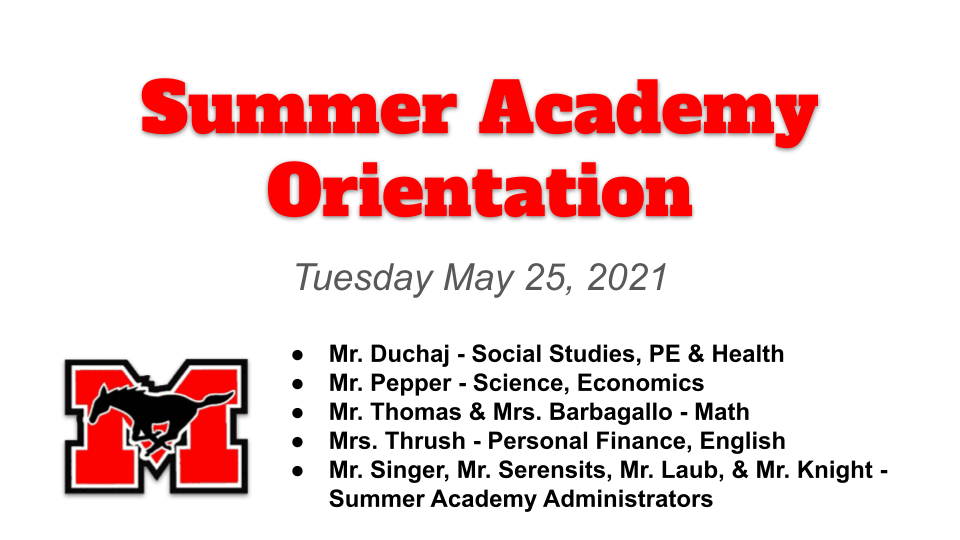 Students will have the opportunity to select from a variety of Hybrid Classroom (Hy-C) courses for new credit, credit recovery or continuation, or obtain enrichment for advanced courses. Please read the Summer Academy Handbook to learn more and before registering.
Parents/Guardians may register their child/children using the registration form in the handbook by Wednesday, June 2, 2021. Parents/Guardians will be sent a confirmation email once registration closes and not before.
Summer Academy is composed of two parts: a 2-week virtual only format from June 7-20 and a 6-week face-to-face (optional) and virtual format from June 21-July 29. Classes will meet four days a week, Monday through Thursday from 8:30am to 12:00pm. (There is no school on July 5 for the holiday). The flexibility of the Hy-C program allows students to work independently; this will be required if your child intends to earn a full credit. Students must complete their final exam by the end of Summer Academy on Thursday, July 29 at Noon. All outstanding coursework must be submitted by July 30 at 3:00pm.
Courses Available
English: Gr9, Gr10, Gr11, Gr12
Math: Algebra, Geometry, Algebra II
Science: Astronomy, Biology, Chemistry, Earth Science
Social Studies: World Civ I, World Civ II, US Government, US/VA History
Interdisciplinary: Personal Finance and Economics
Health and Physical Education: PE/Health 9, PE/Health 10
Summer Bridge Program
Within Summer Academy is the Summer Bridge Program. This program will be available for selected courses where students have been identified as needing additional support to continue to the next level of a course where the curriculum is designed to build upon itself. This can be completed in-person or virtually. We will offer support in the form of a content teacher at Meridian High School, on Monday through Thursday, from July 6-30.